Last updated
: Sep 01, 2023
ESXI recover VMFS partition table
Table partitioning is an interesting concept that adds specific benefits to its users. It is mainly useful for eliminating track crossing while improving performance on all storage platforms. It is also a throughput improvement in specific I/O types. Table partitioning is a great strategy for managing large tables. Partitioning provides performance benefits and proper table architecture management to its users.
Article content:
Why You Can Lose or Corrupt Partition Table of VMFS Volumes
Recover a Lost VMFS Partition on an MBR Disk
Recover a Lost VMFS Partition on a GPT Disk
Recover Lost VMFS Data with DiskInternals
Are you ready? Let's read!
Why You Can Lose or Corrupt Partition Table of VMFS Volumes
It is very possible to lose the partition table of your VMFS volume. In fact, three major ways can lead to losing or corrupting the partition table of your VMFS volume. These are human error, storage issues, and re-signature from another system. Interestingly, losing or corrupting your partition table does not necessarily mean your partition is gone forever. It only means you will need to rebuild the partition table.
The major causes that lead to loss or corruption of your partition tables on VMFS volumes can be mitigated by using the right ESXi recovery VMFS partition table. Thankfully, there is recovery software useful to recover VMFS partition tables. One of the top partition recovery tables you can depend on for optimal results is DiskInternals recovery software.
Recover a Lost VMFS Partition on an MBR Disk
The Master Boot Record (MBR) is the information at the front of your hard disk. This points towards where the operating system of your machine is located to aid booting into your computer or your random access memory. An MBR disk provides a viable information storage option for storing partition information on your disk.
Recovering a lost VMFS partition is possible on an MBR disk by using the right technique and recovery software, where applicable, using DiskInternals software. You can follow the steps below to proceed to recover lost VMFS partition on an MBR disk:
Through DiskInternals software, log in to the ESX host service console
On the command prompt, run the command "fdisk –I"
Browse through to identify the affected disk. You may notice that the partition table is missing from this list. The name of the affected table should have a directory like "/dev/disks/../"
Next, you can start fdisk by specifying the directory and press Enter: fdisk –u /dev/disks/…
Next, you should recreate the partition. To recreate this partition, follow the steps below:
a. Input 'n' and press enter to start the creation of a new partition
b. Input 'p' and press enter to specify that this directory is a primary partition
c. Input '1' and press enter to provision the first partition
d. Input '128' and press enter to specify the default value
e. Swap the partition type to fb (VMFS). To do this:
- Input 't' and press enter. This will select partition 1 automatically
- Input 'fb' and press enter
Input 'w' and press enter to save your configuration
Finally, run vmkfstools –v and press enter to check and rediscover your VMFS partition'
Recover a Lost VMFS Partition on a GPT Disk
Another VMFS table recovery possible is the recovery of a lost VMFS partition on a GPT disk. This is possible through partedUtil. While it is a non-interactive command, it might be a bit complicated to navigate without knowing the right techniques. To proceed with this partition recovery, you will need to get some initial information which is obtainable with fdisk –i.
From the resulting prompt, you may notice that the second disk is empty from the information that you can see. You may also notice the usable sector in the information from the prompt. You can get additional information by running the partedUtil query on your command line
"partedUtil getUsableSectors /dev/disks/mpx.vmhbal:CO:T1:L034 20971486"
The number at the end of the command is important to know the usability of the last sector of your disk.
Furthermore, partedUtil setptbi is useful for creating the partition that you may need with the syntax below:
"partedUtil setptbi diskname label 'partnum startSector endSector type/guid attr' "
Note that disk name is the information you get from the fdisk –I output. This label is simple as it is gpt. While this is straightforward, the complex part is the specification of partitions with quoted strings. This includes the encapsulation of a 5-tuple of data that includes type ID, starting sector, ending sector, partition number, and attribute.
Recover Lost VMFS Data Easily
While the two above techniques provide you with a delicate and complex way of recovering your lost VMFS partition from your disk, there is an easy way to carry out VMFS partition table recovery. To take care of any disk issue, human error, or array corruption, you can trust DiskInternals VMFS Recovery software to read and repair your VMDK architecture while recovering your file.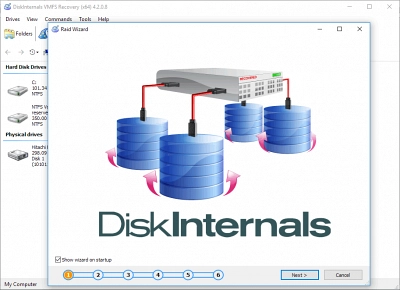 DiskInternals software is an easy-to-use software that guarantees you 100% chance of recovering your data from your faulty or corrupt VMFS partition table directory. It packs several outstanding features that cater to other data recovery needs for its user.
To recover data from your VMware, you can connect via ESX/ESXi server or vSphere.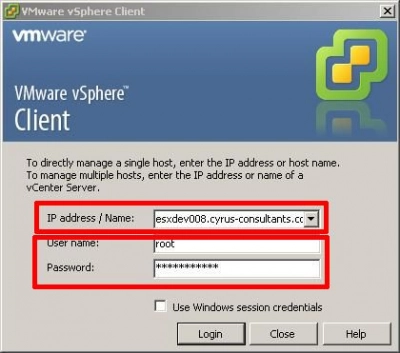 Here, you will have to enter your login credentials before gaining access. After your login is complete, select the machine you wish to perform recovery. Make sure the data store is added to the list before proceeding to click on the VMFS volume.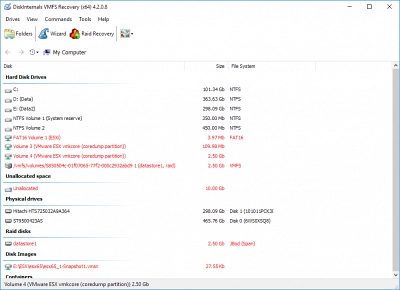 Next, right-click on the volume and open it. This triggers the search for lost files and your volume structure.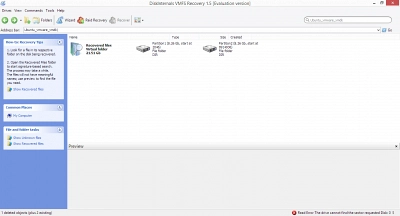 On completion, you should be able to preview the content of lost files. Select the files you wish to restore. Right-click on your selection and click on the export option. Select the folder you wish to save your files and recover your files to this folder.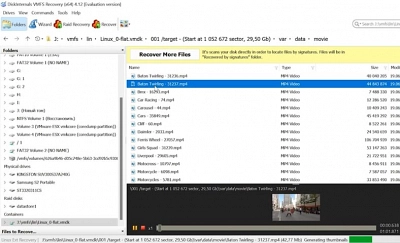 Video Guide
VMFS data recovery software from DiskInternals allows you to scan and recover lost data on your VMware environment. You can use this software to access damaged or deleted disks on your VMware. One thing you should know is that when you finish scanning, you can preview your recovered files for free to ascertain that the recovered data is correct.
Conclusion
The better and simpler option for recovering information stored on VMFS formatted disk is by using DiskInternals VMFS Recovery software. In the instance where your VMware disk gets damaged by any cause, you know you have recovery software that will restore access to your corrupted VMFS partition. Get started today by downloading DiskInternals recovery software to start enjoying the outstanding benefits it has to offer.
Related articles
Please rate this article.