Last updated
: Sep 12, 2022
Fast and Reliable Recovery of Microsoft Office Documents
What would you value most in a data recovery solution should you lose an important document? Would it be speed, convenience, or ease of use? These things surely matter for all kinds of computer software, but data recovery has one specific demand that outweighs everything else by a huge margin. This factor is reliability of the recovery.
Microsoft Office documents store results of many hours, days or even years of work of practically all office employees and most people who use their computers at home. Microsoft Word dominates the market of word processors, and most if not all documents are stored in RTF and its proprietary DOC formats. Microsoft Excel and its XLS file format dominate spreadsheet market.
Most presentations are created in Microsoft PowerPoint and stored in PPT files, and most charts and drawings are drawn in Microsoft Visio and saved as VSD files. Combined, files in these formats occupy significant space on the users' hard drives, and represent hours and hours of work, much more than any other file format.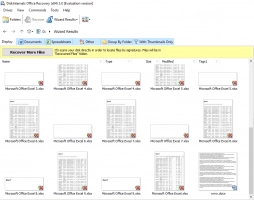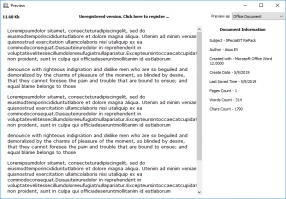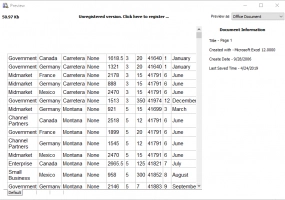 With full document preview in the free evaluation version, there are no worries or surprises in buying DiskInternals Office Recovery.
In an unfortunate case of hard disk crash or file system failure, what would you try to recover the hardest? Would it be a set of software products such as Windows or Office itself, which you can easily re-install from the original CD or DVD, or would it be files and documents you spent your personal time working on? Unless you have a fresh backup of your documents somewhere, the documents are impossible to simply re-install.
DiskInternals Office Recovery support file system as NTFS, FAT, exFAT, ReFS, Ext2/3/4, UFS, HFS, ReiserFS, Reiser4, XFS, RomFS(reader).
If you have a recent copy of your Office documents, that's great! But what if your backup is several days old, and you've put a lot of work into these documents? Or even worse, what if you don't have a backup at all?
General-use recovery products scan the computer's file system in order to locate files that were deleted or corrupt because of a hard drive failure. However, they frequently fail to work properly if the file system itself is damaged, which happens a lot after hard drive failures.
DiskInternals Office Recovery scans the entire surface of your hard drive in order to locate all Microsoft Office documents that are still there. In order to find the documents, it uses a set of signatures that are characteristic for the Office file types. The file system is also scanned in order to retrieve the names of the files. The results of disk scan are matched against information contained in the file system, and you are presented with a complete list of all Microsoft Office documents that are on the disk and that are still possible to recover.
Quite often you don't want to see the list of all Microsoft Office documents that were ever saved on your computer. There's no point in spending time scrolling through an endless list of files if you just need the latest revision of a PPT presentation or an XLS spreadsheet, but you need that document right away.
DiskInternals Office Recovery offers an extensive set of filters allowing you to display only the files that you need with just a few mouse clicks. If you need a DOC file that you know you worked with today, you simply activate the File Format and Date filters, and only the Word documents that were modified on this day will be displayed. If you don't remember the name of the file, but know its title or the person who created the document, the Title and Author filters will show you those files. Similarly, if you only remember a line or even a few words of text from the document, you can instantly locate that particular file by activating the Text filter.
Recover MS Office files with DiskInternals Office Recovery tool
Step 1. Launch the trial version of the DiskInternals Office Recovery.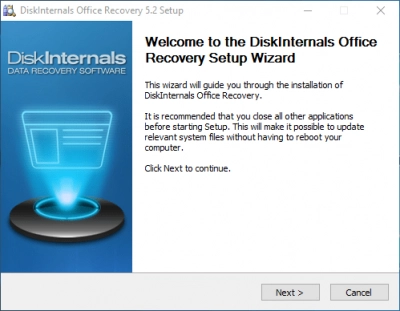 Step 2. Select the disk, where MS Office(ppt, doc, xls and etc.) files were lost.
Step 3. The scanning will starts.
Step 4. After the scanning is done, you will an MS Office files marked with a red cross. That are found files and they can be recovered. To preview any of them - right click on the file and select "Preview in New window"
Step 5. Select files and click on the red cross named Recovery. After purchasing the license and enter the license key, you can save your files! No rescanning needs!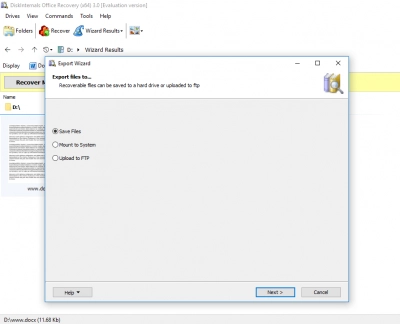 Download the free trial version and see for yourself that it is fully capable to do the job!
Frequently Asked Questions
Can Preview and recover
Office 2007+ Recovery
 docx
Word 2007+
 xlsx
Excel 2007+
 pptx
PowerPoint 2007+
 accdb
Access 2007+
 pst
Outlook 2007+
Microsoft Office
 doc
Word
 xls
Excel
 ppt
PowerPoint
 mdb
Access
 pst
Outlook
 vsd
Visio Drawing
 pub
Publisher
 rtf
Rich Text files
StarOffice
 sdw
Word
 sdc
Calc
 sda
Drawing
 sdd
Presentation
OpenOffice 2
 odt
Text
 ods
Spreadsheet
 odp
Presentation
 odg
Graphics
Related articles