Last updated
: Sep 12, 2022
Access Recovery. Repair Corrupted Databases
DiskInternals Access Recovery repairs corrupted Microsoft Access databases, and undeletes or recovers Access 2000-2007 .mdb and .accdb database files from damaged disks.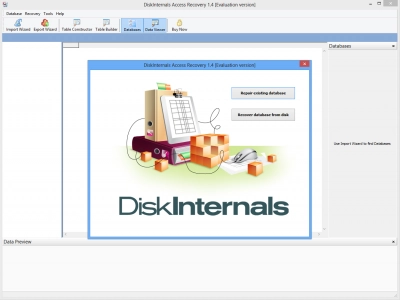 Can't access a local database because of data corruption? Repair corrupted Access databases automatically!
Unlike other database recovery tools, DiskInternals Access Recovery does not limit its work to fixing database headers or repairing damaged structures. Instead, DiskInternals Access Recovery reconstructs the entire structure of a database by splitting the database record by record, and assembling the records back into a working database. All records are carefully recovered, including table data and queries.
DiskInternals Access Recovery never alters the original MDB databases, always creating a new database in MS Access 2000-2003 format and exporting recovered records into the newly created database.
Recover Lost and Deleted Database Files
Deleted a working database? System failure rendered your hard drive inaccessible? Undelete or recover Microsoft Access databases quickly and easily!
DiskInternals Access Recovery comes equipped with Uneraser engine, making it possible to unerase deleted databases automatically. The PowerSerch engine thoroughly scans the surface of the hard drive in order to locate and recover all MS Access databases on the disk. Even if the disk is severely damaged, reformatted, or has its file system corrupted, DiskInternals Access Recovery can still reliably locate and recover Access database files.
Access Recovery: file systems support
NTFS, FAT, exFAT, HFS, RomFS
ReiserFS, Reiser4,UFS, HFS
Preview Recovered Databases Before You Buy
Can DiskInternals Access Recovery fix your particular database? While some databases may be damaged beyond repair, there is no need to guess! Download the free version of DiskInternals Access Recovery, run it on your database, and see full preview of a database if it's recoverable.
Microsoft Money Support
As an added feature, DiskInternals Access Recovery can also recover and repair Microsoft Money .mny databases.


Frequently Asked Questions
Related articles