Last updated
: Feb 14, 2022
Repair VMDK files in VMware
VMware is a company, that develops computer software and is an industry and global leader in cloud infrastructure, business mobility, and virtualization of systems. Here we are discussing system virtualization, which means running multiple operating systems on the same machine by storing the data in the form of an image; in other words, a replica of the data. All the data in a Vmware virtual machine is stored in a single file, in the VMDK file format.
What is a VMDK file?
VMDK is a file format for virtual machines that is supported not only by VMware, but Virtualbox, QUMU, and XVM, among other virtual machine applications. VMDK has always competed with Microsoft VHD and VHDX formats, which are used on virtual servers. The primary function of a VMDK file is to store all the contents of virtual machine on a hard disk drive. A VMDK file can be either fixed(aka "thick" provisioned) or dynamic(aka "thin" provisioned). The maximum size of a VMDK file used to be 2 TB for most applications, but now it has been extended up to 62 TB. The best solution for repairing VMDK files is VMFS Recovery™ by DiskInternals.
Reasons for VMDK file corruption
Many users who work on large data sets as a developer tend to keep the data as backup files or use virtual machines to keep the data backup to repair VMDK files more easily, in case there is a need. The virtual machine is handy but can be quite volatile; it sometimes tends to break down and easily gets corrupted. However, the reason could be one of many things, such as hardware and software defects, physical drive issues, etc. Below, you will find out how to repair VMDK files, or, at least, how to try to execute the recovery of VMware on a corrupt VMDK file.
In case of inaccessibility or integrity issues with your VMDK file, the first basic repair tip would probably be to repair the VMDK file.
Here is how you can repair a corrupt VMDK file:
Basically, a VMDK or a number of VMDK files is made up of two types of files:
VMDK serves as a plain text pointer for the *-flat.vmdk, where the * denotes as the VM server's name. If a .vmdk file of your VM gets corrupted and you are unable to start the virtual machine, then following the steps below might help you to repair the VMDK file in VMware:
Method 1:
To repair .vmdk file in VMware you can add a disk to VM and specify to use existing .vmdk file. This is a good method, but you can not recover -flat.vmdk file with it.
Repairing VMDK files in VMware
VMware files are prone to corruption as is any other data or database file. In order to recover a VMDK file of a virtual machine from a corrupt state, it is necessary to complete VMware repair with the VMware repair tool made by DiskInternals.
How is VMware data recovery possible with VMFS Recovery™?
The VMFS Recovery™ application is several times faster and a more cost-effective way to complete VMware disk repair in comparison with a visit to a data recovery company. VMFS Recovery™ is highly recommended as your primary choice to repair VMDK files because of its functionality. Below, you will find out how to use DiskInternals software on VMware to repair a corrupt VMDK file.
The first step of VMware VMDK repair is to scan the file system and look for all the lost, corrupted and deleted data fragments, including the database and office files, images, audio and video files, backups and archives. File system scanning allows the program to try to fix a VMDK file fully. Then it implements the special VMware workstation repair VMDK recovery algorithm to collect every fragment of data from the system.
This is how the VMFS Recovery™ VMDK repair tool Windows tries to restore your data.
VMFS Recovery™ Guide
Below is a full guide on how to repair VMDK in VMware with the most reliable software that will do everything possible to restore your files as they were: VMFS Recovery™ by DiskInternals.
1. The first thing you need to do to complete repair of a VMware virtual disk is to launch the executable file you downloaded. This way of repairing VMware virtual disks is easy to use and does not require any additional skills.
1.1 How to access the VMFS disk:
direct connection of the VMFS disk
access to the datastore from VM inside of the same ESX/ESXi
SSH connection
iSCSI interface or Fibre Channel connection
install Windows in ESX/ESXi from any external storage and then start VMFS Recovery™
2. Scan the VMFS disk.
3. Find the VMDK file you need in the results and mount this file with the .vmdk expansion as a disk.
4. Open up the disk mounted within the DiskInternals interface and scan it to check if the files are recoverable.
5. Open up the Preview mode and check if there are all the files you need.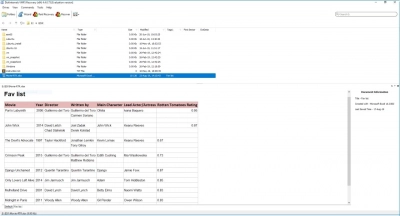 6. Purchase a license of the DiskInternals solution to restore the corrupt VMDK file and run it to recover the files.
Related articles
Please rate this article.