Last updated
: Apr 20, 2022
ESXi Free Limitations and Its Benefits
Here you will find out:
about ESXi free limitations
pros and cons of VMware ESXi free
when DiskInternals can help you
Are you ready? Let's read!
VMware ESXi is a well-known type 1 hypervisor that is well acknowledged by IT professionals. VMware is one of the market leaders in virtualization technologies. People and businesses are increasingly installing ESXi servers in their settings to operate virtual machines.
The VMware vSphere hypervisor includes an ESXi hypervisor, which has distinct licensing options for each version. The price of each VMware vSphere edition varies, although VMware also offers a free version of ESXi.
The advantages of free VMware ESXi, as well as the constraints and limitations that come with using this version of the ESXi hypervisor, are discussed in today's blog article.
Applying a Free VMware ESXi License
You can get an ESXi installer ISO image from the VMware website, but you'll need a VMware account to do so. For all editions of an ESXi hypervisor, the installation file for a certain version (for example, 6.7) is the same.
Following the application of the proper license, a separate set of features and capabilities is defined. After installing ESXi, a 60-day full-featured trial period begins. During the 60-day evaluation period, you can access all of the Enterprise Plus edition's features. If you purchase a license before the evaluation time ends, you can only utilize the features that your license allows.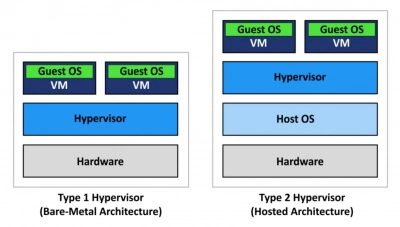 If 60 days have elapsed without a license being applied, all advanced capabilities are disabled; running VMs continue to function, but powered-off VMs cannot be started. In this instance, ESXi hosts linked to vCenter Server are disconnected. To get your ESXi server working again, you'll need to apply a license (free or premium).
What is the best place to receive a free license key? After registering on the VMware website, you can get a free ESXi license key. The key may be found on the vSphere Hypervisor Download Center page's License & Download tab.
You may install the ESXi server using the instructions in this blog post once you've downloaded the installer and obtained the ESXi free license key. To launch VMware Host Client after installing an ESXi server, go to your web browser and type in the IP address of your ESXi host. To log in, use root as the user name and the password you set up during the ESXi installation. Select Host > Manage from the left window (Host Navigator), then the Licensing tab.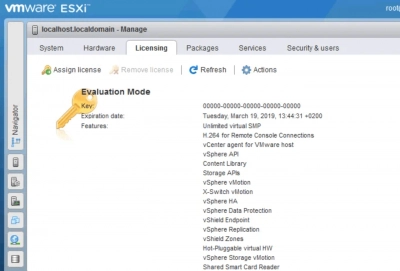 A host is now in evaluation mode, as shown in the screenshot above. ESXi was installed on the 18th of January, and the expiration date is the 19th of March in this case. The features section of this page displays a complete list of features available during the 60-day evaluation period. In this scenario, the license key is shown as 25 zeros.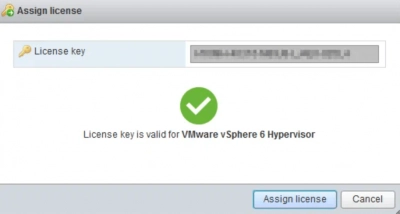 Let's use a free VMware ESXi license key to get started. To assign a license, go to Assign License and input your key (25 symbols). Click the Check License button, then Assign License if your license key is valid.
Your license type has now changed to VMware vSphere 6 Hypervisor from Evaluation mode. The string "Up to 8-way virtual SMP" appears in the features column. Symmetric Multi-Processing (SMP) is a feature that determines the amount of cores that a virtual machine (VM) can employ at the same time on the host (8 cores/virtual processors if using a free license). The date of expiry has been changed to Never.

How to Check Features Available With a Free VMware License
The first visual distinction you could notice is seen in the pictures above. Use a terminal to get more comprehensive license information. In this example, PuTTY is used to connect to the ESXi console over SSH from a distant location. In the ESXi settings, make sure SSH access is enabled. To see your license and accessible features, run the following command:
vim-cmd vimsvc/license --show
The result of this command for ESXi operating in free mode and ESXi running in evaluation mode is shown in the image below. For the ESXi server that is in evaluation mode, the list of possible functionalities is substantially greater.

The List of Limitations for Free VMware ESXi
Now let's take a deeper look at the limitations of using a free license with an ESXi server version 6.7. Some constraints may be undetectable to you, while others may be important, depending on your environment:
No Official VMware Support
Cannot Be Managed with vCenter
vStorage API Is Not Available
No Official VMware Support
VMware does not provide commercial technical assistance for free ESXi. You can seek assistance from the VMware community, and with any luck, you will be able to discover a solution to your problem. While commercial VMware technical support is available 24 hours a day, 7 days a week and normally responds quickly, help from the VMware community in addressing difficulties may take a little longer. Software upgrades are also available through VMware commercial support.
Max 8 vCPU per Each VM
If you construct a virtual machine with more than 8 virtual processors (for example, a VM with 9 virtual one-core processors or a VM with 5 virtual two-core processors), the VM will most likely fail to start on free ESXi, with the message "Insufficient licenses to execute this operation."
At the same time, you may construct a VM with up to 128 vCPUs (virtual Central Processor Units) with the Evaluation or Enterprise Plus versions. Unlike the next two limits, the 8 vCPU constraint may not generate substantial drawbacks.
Cannot Be Managed with vCenter
vCenter, a centralized server for managing hosts and virtual machines, cannot handle the free version of an ESXi server. If you try to add a free license ESXi host to vCenter Server, you'll get the following error: "License not available to conduct the action." As a result, you won't be able to transfer machines from one free ESXi host to another or use clustering capabilities because vCenter Server is necessary to do so. If you want to employ numerous ESXi hosts, this is a huge drawback.
vStorage API Is Not Available
VMware's vStorage API (Application Program Interface) data protection framework allows for centralized backup of virtual machines at the host level. Third-party apps can use the vStorage APIs to speed up VM backups and offload CPU, network, and storage.
Because the free version of ESXi Server does not enable apps to interface with the ESXi server via vStorage APIs, VMs cannot be backed up on a host level. In this instance, your backup software should produce an error warning. Only VMs running on the free version of ESXi host may be backed up in the past, which necessitates the installation of the agent on the guest operating system.
Features That Are not Limited for Free VMware ESXi
Let's evaluate the non-limited features and advantages of free ESXi now that we've gone over the downsides and limits.
Unlimited Physical CPUs per Host
For an ESXi host, a free ESXi license allows you to use an unlimited number of physical processors (VMware vSphere Hypervisor). A free license in older versions of ESXi was limited to employing no more than two physical CPUs. One of the key components of hardware virtualization is the CPU, which is virtualized but not mimicked.
Unlimited Cores per CPU
The free ESXi license does not limit the number of cores per physical CPU. This functionality helps you to make reasonable use of the hardware CPU performance. For a virtual computer, one CPU core might be utilized as one virtual processor or one virtual processor core.
Unlimited Physical Memory
Physical RAM is not restricted for an ESXi server with a free license, much as physical CPUs and processing cores. This feature allows you to create a powerful physical server with 4, 6, or more multicore CPUs and big amounts of RAM, install ESXi, apply a free license, and deploy multiple VMs, in addition to infinite CPUs and CPU cores (max. 8 vCPUs per VM).
No Expiration Date
Once you've obtained a free ESXi license, you can be assured that it will never expire. This implies you may use the free version of ESXi server for as long as you wish. You can apply a commercial license at any moment without having to reinstall your ESXi server. Simply add a new license in your VMware host client or VMware vSphere client's licensing choices.
If your VMware VM is corrupted
DiskInternals VMFS Recovery is a professional application for high-quality reading of the VMware VMFS file system when it is damaged. It can also recover data, where possible, from drives (in any state) in VMFS format.
All data found during deep scanning can be seen in the preview window. It will not cost you a dime. Further, if everything suits you, simply buy a license for DiskInternals VMFS Recovery for data export.
Here's a guide to DiskInternals VMFS Recovery; be sure to read it:
Download and install the program on your computer, so you can start recovering lost VMDK data.
Connect via SSH, if necessary.
Open the disk (it can be either a local disk or SSH).
This is followed by a scan, after which you can find and mount the necessary VMDK files.
Preview the data for free before exporting.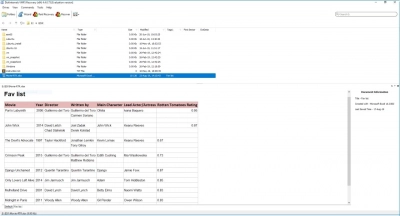 Now, it's time to export data using the wizard. To perform export you will need to buy a license.
VMware has a steadfast licensing policy. According to the VMware licensing rules, you may start plunging into the amazing world of hardware virtualization with free VMware ESXi, commonly known as VMware vSphere Hypervisor. Free VMware ESXi is a good option for small businesses, such as small shops and freelancers, as well as for testing and learning reasons. The ability to utilize limitless hardware resources (CPUs, CPU cores, RAM) on the free ESXi host allows you to operate a large number of VMs with a maximum of 8 virtual processors per VM (one physical processor core can be used as a virtual CPU).
The inability to utilize vStorage APIs and, as a result, the usage of native backup apps for executing host-level VM backups, as well as the absence of access to centralized administration with VMware vCenter Server, are the key downsides of using free VMware ESXi. Despite the limitations, the licensing agreement does not preclude using free ESXi in a production setting. Read more about VMware vSphere editions and licensing in this blog article.
Related articles
Please rate this article.